Stephanie Laster
event planner , wedding planner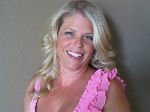 Lee's Summit, MO
816-554-3934
pslaster@kc.rr.com
Leave the details to me! I'll save you time and money. As a good planner I will make sure you enjoy a truly memorable and successful event
I'm a busy mother of two elementary age boys. I've happily planned all the social events at the school for the past two years. I enjoyed it so much that I decided to take on the challenge of event planning as a hopeful career. Before children I managed a successful Bridal Store in Overland Park. I worked with Bride's on many areas of their wedding. I also worked as a Designer at Nebraska Furniture Mart. My Bachelor's Degree is in Merchandising of apparel and home furnishings. Working with people on their events is something I really enjoy.
Services
Event and Wedding Planning Services I Offer

I'll be sitting down with every client to consult with them on their wedding or event. We'll discuss all the goals and details of the event.

I will coordinate all the details of the event, right up to the day before it takes place, to make everything perfect. This includes finding all the vendors and services needed for the event or wedding.

Day of coordination services apply to any event, wedding, party, activity or ceremony that you want me to oversee. I will give directions, problem-solve, and be available whenever or for whatever I'm needed.

Complete planning services include planning the entire event or wedding and any other related activities. I will personally oversee and coordinate all of the activities on the day(s) they are held. Finally, I will help with any post-event tasks.