Trevor Larter
event planner , wedding planner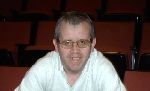 London
07957 856855
events_62@yahoo.com
Mr Eventful is here to help you organise that big day!
Hi there! I'm Trevor and welcome to my new website [C/O www.qcstudentcenter.com]. Please feel free to have a look through it and should you wish to get in touch, I would be very happy to answer any questions or concerns.
A few years back, [1997 to be more precise] I organized my mothers surprise 60th Birthday. I guess this implanted a seed to become an event organizer, and admittedly it has taken this long to grow and make it become a reality.
I am very excited to learn and begin this new beginning and look forward to helping many of you organize those either very special celebrations or corporate functions.
I was born in Kingsbury, London on 12th August 1962 at a hospital in Honeypot Lane [Now a residential home, I believe!].
I attended Fryent Junior School from 1967 to 1973 and then went on to Claremont Secondary School from 1973 to 1979.
My first job after leaving school was at an optical factory warehouse, as a junior admin assistant. This only lasted about five months when I was then made redundant, due to site closure.
A couple of further months passed when I landed my first position in Payroll which was the start of my over 30 year career within this profession. My venture started at Osram-GEC in North Wembley, and spent 8 very happy and memorable years.
I will not bore you with the remaining 22 years, other than to state that I was very fortunate in 2007/8 to work at my favorite football club [West Ham] for a period of 8 to 9 months on a maternity cover contract.
In the last 2years or so, I worked for DHL and about a month ago at the time of writing was made redundant. [So you could say my working life so far has come full circle in some respects.]
Apart from my working life, I have been involved with a hospital radio station. [http://www.radionorthwickpark.org/] I first joined in 1982 as a rather still timid 20 year old, and started out by visiting patients and taking requests in their particular choice of music. I have a vivid memory of doing my very first show on air, when I was asked by the then Programme Controller who was one particular evening holding a training session for new presenters, if I would like to cover the show for this particular night as the normal presenter had phoned in sick or something.
My first regular show was a Sunday afternoon, which I fondly remember and laugh a bit at now was constantly interrupted by the technical team, whom strangely also worked between about 2 – 4pm each Sunday.
Anyway, I feel very proud as I am currently the longest standing member of the organization, which this year [2011] sees it celebrate its 40th anniversary.
As I mentioned, I organized a surprise 60th birthday for my mother in April 1997. I along with most of my mums friends and work colleagues helped me put together this celebration. I started organizing it about 6 months prior to the actual date of the party. My first and foremost priority was to book a venue, which after a lot of train of thought, discussion with various people and deliberation was to be eventually held at the local church hall. My second step was to arrange something where my mother and late father, would not be around during the day, so as to get no indication of what I was trying to arrange without them knowing anything about it. I decided at this point to recruit one of my mums longest and close friends to accompany my mum and dad on a day out to Hampton Court. I also, asked a close friend of mine to pick them all up and drive them [Via riverboat trip] to Hampton Court. Finally, it was then to get all the invitations out to all family members and friends to attend [Which they did in their droves!], what was a fantastic evening and a big surprise for my mum.
Services
ľ Weddings
ľ Birthday Parties
ľ Corporate Functions
ľ Family day outs